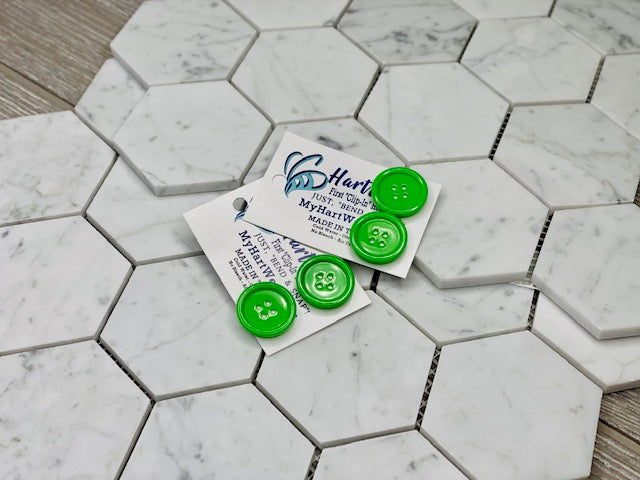 Green Buttons
WHY MAGNETIC BUTTONS?
• THEY ELIMINATES EAR FATIGUE/SORENESS
• WORKS ON MULTIPLE HEAD GEAR AND PPE; 
EX:  HATS, BANDANAS, HEADBANDS, SURGICAL & MEDICAL CAPS, ETC.
• HELP IMPROVE THE FIT OF FACE MASKS
• EASY TO CLEAN & SANITIZE
HOW DO I PUT THE MAGNETIC BUTTONS ON?
1. SLIDE THE MAGNETIC BACK PLATE OFF THE BUTTON
2.  SLIP THE BACK INSIDE YOUR HEADBAND (OR OTHER HEAD GEAR)
3. PLACE THE BUTTON ON OTHER SIDE OF HEADBAND AND CLIP THE TWO PIECES TOGETHER
4. ADJUST FOR LOCATION OF MASK & COMFORT
FAQ'S
1. WILL IT MAKE A HOLE IN MY HEADBAND?
NEVER! THERE ARE NO SHARP EDGES TO THE BUTTONS THEREFORE NO HOLES CAN BE CREATED.  THE BUTTON IS MAGNETIC ONLY.
2.  DO YOUR MAGNETIC BUTTONS WORK ON THICK FABRICS?
OUR MAGNETIC BUTTONS WORK ON MANY OF OUR PRODUCTS (HEADBANDS, SURGICAL & MEDICAL CAPS, BANDANAS, ETC.), HOWEVER THEY MIGHT NOT GO THROUGH OUR THICK POM-POM BEANIES OR FLEECE LINED HEADBANDS.